Have you figured out the bookkeeping and accounting issues facing small businesses? That's precisely what I thought. It's really bad.
Back in 2001, I seriously considered never doing consulting work again because every small business bookkeeper or accountant that I encountered thought they were experts. Most were not. I continually observed the gap between their perceived and actual skill levels.
Today, I typically get a seat at the table when my clients are either upgrading or turning over their small accounting departments. My favorite role is interviewing accounting candidates to flesh out the imposters from the winners.
These 5 Questions Reveal the Cream of the Crop or the Duds
I've spent nearly 10 years getting these questions just right. Feel free to use them and tweak to your situation. Here are my fab five accompanied by my reasoning:
Question 1 – What ERP system have you recently worked with? Feel free to list the others too, but provide the most recent. Comment on your experience with the system—easy, hard, other? What modules did you work with the most?
The goal is to weed out accountants with just a QuickBooks background unless they are a great culture fit with high competence. If the accountant has only worked in a QuickBooks environment, that means he or she has only worked in small companies (more than likely).
Question 2 – What steps do you perform in the month-end process? Since you started your last position, has the month-end close improved or stayed about the same? Why?
In accounting, if you can close financials quickly and accurately, the candidate can pretty much do anything. This answer provides the breadth and depth of the accountant's skillset along with the ability to recommend changes to a major process.
Question 3 – Name the 5-7 activities you perform daily. For each step, input the following:

I want each candidate to populate the Origin column with one of the following numbers:
1 – I created the activity or process
2 – I have improved the activity or process
3 – I only follow the process
I created this question because it provides us with multiple insights. First, we find out exactly what this person has done and if it aligns with your client's needs, or if their skills can transfer to the type of work the candidate will be performing.
Furthermore, we learn about the accountant's leadership abilities. More than likely, processes were already in place. However, the table allows us to see if they have the ability to see problems or issues with current workflows.
Question 4 – What are the first 5 pages you study or examine of your current financial package. Feel free to comment on non-financial data too.
Even if you are not hiring a financial analyst, the question above gives us insights as to whether the accountant is just a clerk or data entry person or if they truly appreciate the end product–financial statements. Consider it a bonus if the accountant enjoys studying and tearing apart the financials. While you might think that's the job of the CFO, it's not. The head accountant should have a strong fluency in financial statement analysis.
Question 5 – What are your 5 favorite Excel tricks that the typical user may not know or rarely uses. How are these tips and tricks helpful to your current company?
Again, consider it a bonus if you are hiring an Excel jockey. However, if the person has some great tricks, then:
The person takes initiative by looking for (Excel) solutions online—that takes effort
Many savvy Excel stars are strong analysts
The correlation will be high with better-than-average accounting technical skills
This is my personal opinion, but the candidate who mentions that they use vlookups and PivotTables regularly means they are a 'plus' Excel user.
Bonus Question – If you were to create a weekly dashboard from the ground up for the CEO or the management team, what would you include? What might it look like? Explain your answer.
I always ask this question because I want to know the type of person I'm getting. Most accounting managers perform poorly on this question which means they are not getting good training in prior positions. Results will be mixed with your controller candidates, especially if they are accounting-centric as opposed to having an FP&A mindset.
What About Bookkeeper Hires?
You'll probably wind up hiring more bookkeepers than you do accounting managers and accountants.
My favorite test to administer to bookkeepers is the one that's already been created by the American Institue of Professional Bookkeepers. I've tweaked some of the questions and have the candidates take it during a GoToMeeting. Yes, I want the candidate to stress over this exercise by having me watch over their shoulder as they take it.
I also have an account with ClassMarker where I've created my own 25-question test. I like the ability to create my own questions and tweaking the test from time to time.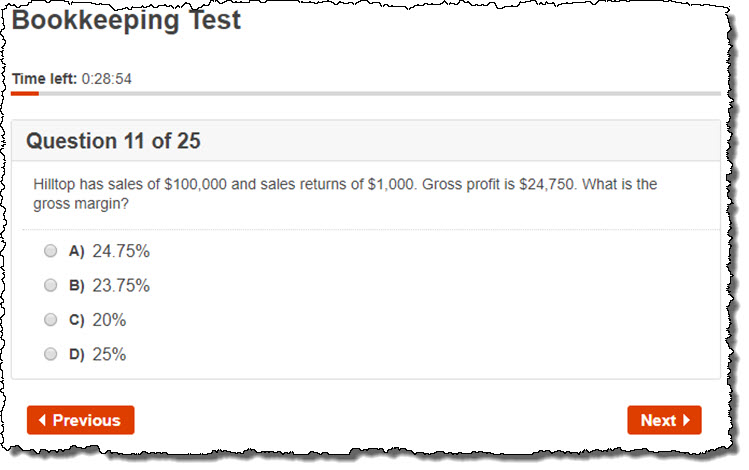 Hiring Based on the 3 Parts of the Human Mind
I happen to be a Kolbe Certified™ Consultant, so I have all candidates take the Kolbe A™ Index. From a conative standpoint, candidates need to be Fact Finders and an initiating Follow Thru (these instincts are defined by Kathy Kolbe on her website).
Hiring for cultural fit is critical too. Generally, my client and I can weed out the likable experts through the 3 different interviews we have with each candidate along with the references they supply us. By the way, for some of my clients, we have the client arrange the phone calls between their references and myself and the client.
This process may appear that I'm placing more emphasis on cognitive skills over conative and affective candidate attributes. I'm not. That's because my client and I are hiring the whole person, not just a part of them.
Don't Forget to Track Your Candidates
Small companies with revenues less than $15 million and under 25-30 employees generally do not have any tracking system whatsoever let alone an ATS (applicant tracking system). That means you're in charge.
Don't go overboard. Keep it simple. I prefer an online project management tool where I can upload resumes. Or, just track your candidates in Excel like I've done in one situation below:

Column headings worth mentioning include my opinions on the candidate's experience and the status of where the candidate is in the pipeline:
Dropped out
Ignore
Maybe
Interested
Interviewed
And don't forget a simple method for saving those resumes too. The naming convention I use is Status_Resume_LastNameFirstName.pdf. If you use a Trello-like tool, this process takes care of itself.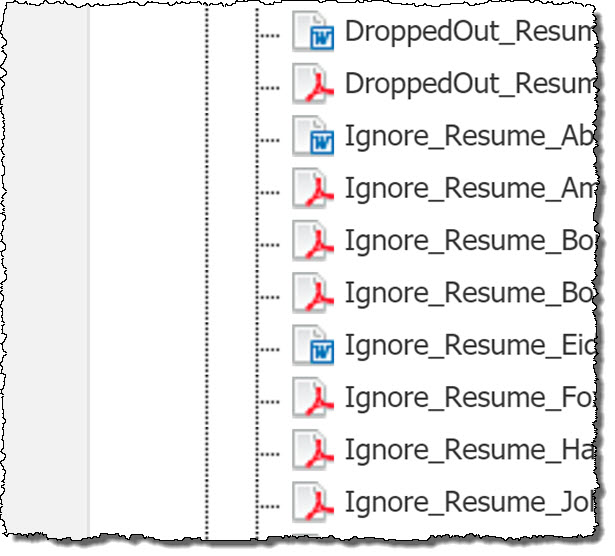 The Hiring Process Will Evolve Over Time
I'm no expert in this area. But I also hate landing the wrong person for a role. So the questions and abbreviated process I've outlined above is much better than it was 5 years ago. And my process will keep improving in the future.
Try the questions and the ideas. Then make them your own by improving upon the ideas outlined here. I'll be anxious to hear about your results.