I believe the part-time CFO's greatest asset is their domain name, not necessarily their intellectual property (IP). IP is hard to share without a simple and compelling domain name where the part-time CFO can showcase their expertise.
No More @gmail Accounts
Periodically, I get calls on how to become a consulting CFO or CEO. In most cases, they either have a Yahoo! or Gmail account. How professional.
If you are one of the guilty parties, please make getting a domain name with an e-mail account tied to that domain a high priority.
There's nothing wrong with an @yahoo.com e-mail address. Just use that account for personal use. But let's get started; you need a domain name first.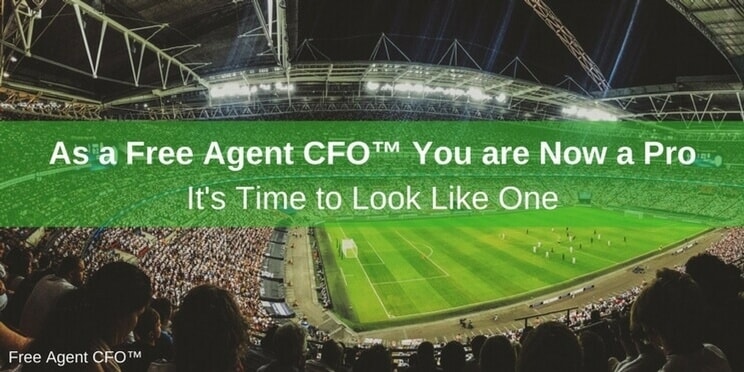 3-Steps to Obtaining a Domain Name
I own domain names across four registrars: GoDaddy, Namecheap, HostGator, and Hover. Once I discovered Hover, I now use them exclusively. More on that later.
The steps are easy to obtain a domain name. The hardest part will be deciding on a name. Otherwise, the following steps are painless.
1. Pick a Registrar
I bought my very first domain names through HostGator. I then used GoDaddy because they are cheap. I don't like their upselling.
I then tested Namecheap and Hover. I bought names from both so I could check out their dashboards. I chose Hover where I have more than 20 names registered. They have great customer service, and the dashboard area is easy to navigate. Below is the edit area for G3CFO, the owner of Free Agent CFO™.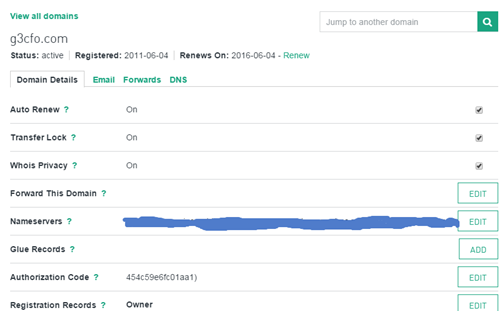 When I launched that website, customer service came to the rescue by providing input on the Nameservers settings.
There is nothing wrong with any of the registrars I have listed. If you decide you don't like a registrar after buying a name, you can do what I did in one case–transfer it to a new registrar.
2. Decide on a Name
This may be the hardest step. You can take the easy route by picking a name and appending CFO. That's what I did with G3CFO.
By using CFO in your name, you leave no doubt in the minds of those pursuing your site that you (probably) offer CFO services.
If you pull an 'Amazon' or 'Google', branding will take longer. That's your call. This is your business, and it's your decision. Just realize you'll need to stick with the name as long as you are a practicing CFO (under most circumstances, I would not recommend changing names midstream).
You can enter a domain name in any registrar's search box. Below is the search box at Hover.

If your name is taken, they will provide a plethora of extensions that are available. I still believe .com is the way to go. If it is available, grab it.
3. Buy Your Name
All the registrars make it easy to buy domain names. There are only two critical decisions you need to make at checkout.
First, decide how long you want to register the name. I used to register my name for one year. I'm now buying them for two years with automatic renewal.
Secondly, I highly recommend you take advantage of the privacy protection using your registrar's WHOIS setting. This is a personal preference–I don't like anyone seeing information about me that includes an address and phone numbers. I value privacy.
Set Up Your Email Account
When I set up my email for G3CFO, I knew nothing about email. We all have Google at our disposal, and I already knew of several large organizations providing email services. But which one, and why?
One thing I do know, I think–don't use your domain registrar for hosting your email. You may find it tempting to roll with Hover's email service and sync it with Outlook. But the experts say don't do that. If one system goes down, they all go down. I give Carrie Dils props on this one for explaining this confusing issue for even the layperson to understand.
Since I'm no techie, I will throw suggestions your way. No recommendations, just suggestions. It's your job to do the rest such as your own due diligence.
Suggestion 1 – Google
Google is probably the granddaddy here. I have $50 million clients using G Suite for Work. I also use this for Free Agent CFO™. Don't worry, if you still love MS Office and Outlook, you can forward all messages to Outlook using the preference settings in that software.
Suggestion 2 – Office 365 Small Business
I'm torn on this one. Office 365 might even be my top choice but only by a hair. It's easy to set up, and I use it for G3CFO. I've never had a problem with it.
Suggestion 3 – Other
I'm sure there are others to choose from such as Rackspace. Don't use Yahoo's small business service. It takes forever and a day to change it if you want to. 1and1 has Webmail. And I'm sure there are dozens of others. But I cannot comment on them due to a lack of expertise and familiarity.
Now You Are a Pro
One last piece of advice before we wrap up. Don't stress out here. While you can get most of this done in an hour, block out a full day to knock this out.
You're still not done. Your website is next. But acquiring a domain name and setting up your email service is your first step to creating one of your most important assets.
A Bonus Tip
Through Hover and several other domain name registrars, I have some 30 names I need to manage.
Each time I acquire a name, I input the name in a spreadsheet that includes the following columns:
Domain Name
Registrar
Expiration
User Name
Password
Account
Notes
You might even consider entering your expiration date in the calendar system you use. Better yet, enter the expiration date in your calendar two weeks before when it's set to expire, then renew it immediately (never, never, never let these lapse). Better yet, have these names automatically renewed.
The other reason to track these names in one place is if you've registered them from more than one registrar. Again, this serves as your mini IP (fixed) asset system. I've already been offered four figures for one domain name. Accordingly, I like having this simple table at my fingertips.