New CFO consultants occasionally ask me about picking a good domain name. The question goes something like this, "Should the domain name include my personal name, or should I use a firm name?"
Ask 10 marketers that question, and you might get 9 different answers. Well, maybe that's a stretch.
I'll save my answer for another time, but I will share with you a cool place where you can find some fascinating domain names on the market.
Sedo Calls Itself the World's Leading Domain Marketplace
At last count, I've registered some 50 domain names. Many of those are parked, but I will soon be launching new media sites with about 3 of those domains soon.
However, I've struck out many times in finding a CFO domain that's available. Most of the names I want that have already been acquired, yet they are parked. I recently turned down an option to buy a domain name for some $25,000–too pricey for me. I've paid $1,800 for a domain, but I can't see myself paying 5 figures.
What if you want a name that's already taken? See if the name is available at Sedo.
Enter CFO in Sedo's Search Box
Once you enter CFO in Sedo's search text box, you'll find many domains that include CFO in the name. As of this writing in February 2018, I was shocked to find cfowiki.com available for only $2,395. Any takers?
Here are some other interesting names on that list:
cfofirm.com for $1,895
goodcfo.com for $499 (interesting name)
slowcfo.com for $299 EUR (seriously?)
riskcfo.com for $477 could be taken two ways, right?
cfofocus.com for $2,295 looks interesting along with cfoideas.com for $2,295
cfomedia.com for $3,195 looks like a steal for that price
kidcfo.com for $777 could be a Christmas present for one of your kids
youngcfo.com for $2,395 would be for us aging baby boomers
cfoblogs.com for $877 reminds me of the sports blog network SBNation
seocfo.com for $200 is for the marketing consultant for CFOs
greatcfo.com for $1,595 has your name written all over it
cfocanada.com for $2,795; I don't see that name being on the market for long
impactcfo.com for $2,395 is probably the catchiest name of the bunch
How about the following names where the asking price exceeds $20,000?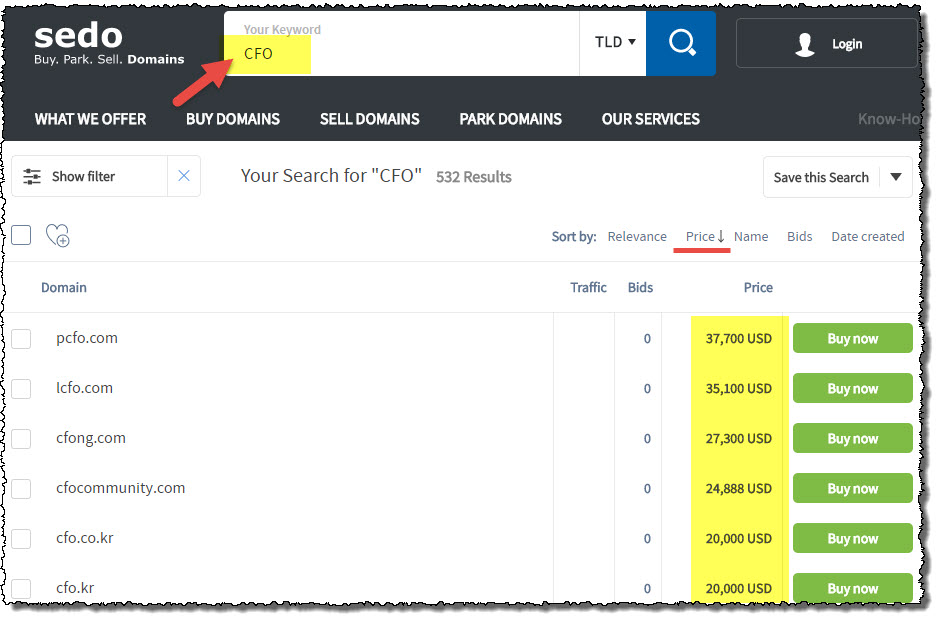 Other Financial-oriented Domains
Just for kicks, I looked up cashflow in the search box.
cashflowstatement.com for $28,600, you're kidding me, right?
cashflowfinancing.com can be acquired for a mere $42,900, interested?
cashflowgames.com and cashflowforecast.com are both tempting, but each will cost you $27,300
ezcashflow.com is only $899, go for it
Profit Names
Ready to pony up $125,000 for profitonline.com? It even has some traffic. Profitsharing.com is only $71,500.
Would you be willing to pay nearly $50,000 for 4profit.com?
Strategic Names
Let's try one more. For you strategy-minded professionals, you can have strategicthinkers.com for only $69,888. Would you pay that much for this domain name? Is it possibly underpriced?
Strategicbusinessplanning.com is a mouthful, and it's asking price is $27,300.
I like strategicgrowth.com, but the price tag is $23,477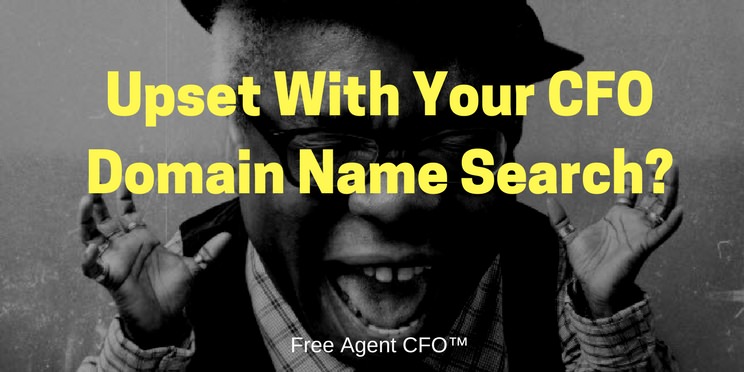 Use Sedo to Prime the (Creativity) Pump
If you buy one of these names, I really want to know about it.
However, use Sedo as a way to get domain ideas when you get stuck. Plus, it's a fun excercise to go through as time permits.
Good luck on your domain hunting.
Sorry, FreeAgentCFO.com is not for sale–not for all the tea in China.